Hiring a professional company to do your next web development project can be daunting. There are several charges you need to both review and consider when setting up a website for your company. Here are some tips on hiring a developer and a break down of the cost of a website in 2017.

---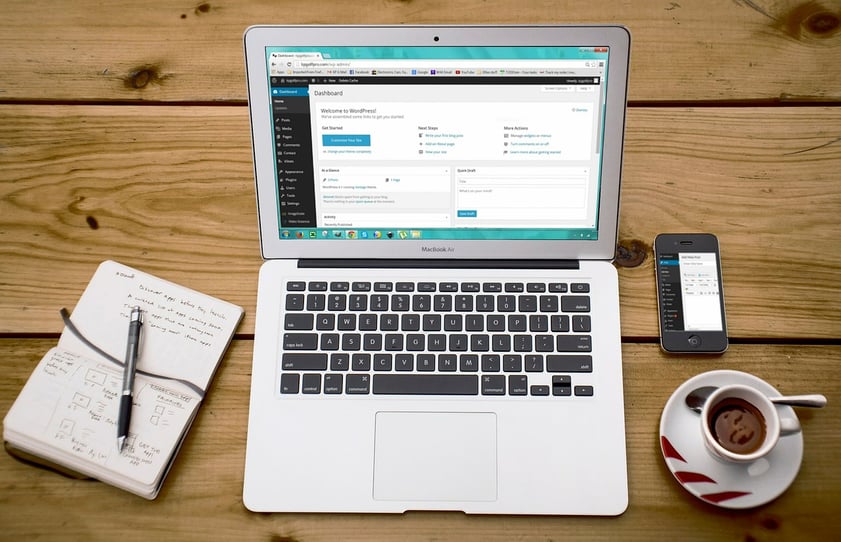 Average Cost of a Website
Here are some initial activities and estimates of web development fees, based on our research on Web Design companies. The standard fees include: setup, website and CRM tutorial, web design, web development, and maintenance. All together, a new website will likely cost a small or mid-sized company between $20,000 - $25,000. For an in-depth estimate download the Guide here.
Setup Costs:
Setup Costs are initially creating the website, hosting it on a server and having a web developer setup basic databases.
Estimated Time: 1 to 6 Hours
Professional Developer Setup: $50-$500 (One-time fee)
Hosting Cost: $5-$200 (Monthly)
Website/CRM Tutorials:
If you have the company design your website, they often will have to teach you about website maintenance. For instance, the company will need to instruct you about how to update small information and how to use your new CRM tool. This is very important when keeping track of visitors, looking at channel distributions, and evaluating analytics. However, this training does come at a cost since training can take a while!
Estimated Time: 3 to 6 Hours
Training Costs: $25-$100/Hour
Website Design:
When a company starts getting into the meatier parts of your website's design, costs will add up quickly! First, the company will have to pick a website template. Depending on both the needs and size of your company, a template can range in price. Further alterations to the template will also cost an additional fee, since a web developer must edit the website's code. On the other hand, if you want a website made from scratch, a custom design can easily cost in the thousands of dollars. This website design method is highly recommended because templates are used by multiple companies (so using a templated website will not make your website unique!). With an eye towards maintenance, a website built from scratch will have fewer bugs in the future since you will have more detailed knowledge of its underlying operation.
Basic Template: $35-$60
Premium Templates: $80-$200
Template Alteration: $500-$3000
Custom Design: $5000-$10,000+
Website Building Costs:
Following the completion of the website design phase, this step accounts for the cost to implement your website. Your selected company will add in designs and content for your website. This website construction can either be done hourly or by amount depending on the project and company.
Designer Hourly Cost: $50-$250/hour
Content Population: $50-$10,000*
*dependent on the amount of content, and other factors that contribute to designing.
Maintenance:
When all is said and done with your website, keeping your website maintained will be an ongoing priority. It is important to keep the website up-to-date with new features and updated software.
Developer cost: $100-$200/hour
Estimated Annual Cost: $3,600-$15,000
What to avoid:
Avoid cheap, fast products. A prospective Web Design company should say it all, but do not let a cheap price tag get in your way of having a well thought out website. Make sure that the company has an office or work environment; do you really want your $20,000 website made in someone's basement? Avoid companies that transfer development and website production off-shore. Keep in mind that a website may be visually appealing, but the back-end of the site may be poorly built. This lack of quality may cause significant errors in the future.
What to look for:
When you start searching for professional, Web Design companies, grab estimates and compare several companies. A good practice is to see what the competition has to offer before making a decision. Find an agency that is willing to disclose all the details in their estimate. Look for previous projects the company has done and try to find reviews on the company, such as Yelp and Google reviews. Most importantly, find a company that makes you feel comfortable and understood. A project can take a while and there will be constant communication between you and the company. Make sure that your chosen agency is attentive to your calls and keeps you updated with progress on your web development project. Otherwise, it will be hard to enjoy the work process, or even the finished website, at the end of development.
Lastly, when deciding on a company to purchase a web development project, beware of "package" pricing. This sometimes leads to web development companies skewing their prices to make them look affordable. In reality, the time estimates to complete certain tasks are more fluid than rigid. Send an RFP to the company and have them send a detailed response on all activities that are charged to you. In this way, you can hold the company liable in case a worst case scenario occurred.
---
Don't stop here! Check out our detailed guide, "Average Cost of A Website." It's free to download and contains all the information you need to choose a Web Design company and price estimates.
---
Webbege is a leading San Diego B2B website design and digital marketing agency that provides a suite of marketing automation tools. Our clients range from small businesses to Fortune 500 companies. Let's team up and grow your business.