Your website is often a customer's first introduction to your business. It's vital that it reflects an understanding of current trends, carefully balancing aesthetics with the functionality that every customer expects. This tightrope act can be tricky, but if you manage it, you'll see an increase in user engagement as well as higher rates of conversion.
Here are a few of this year's most popular web design trends.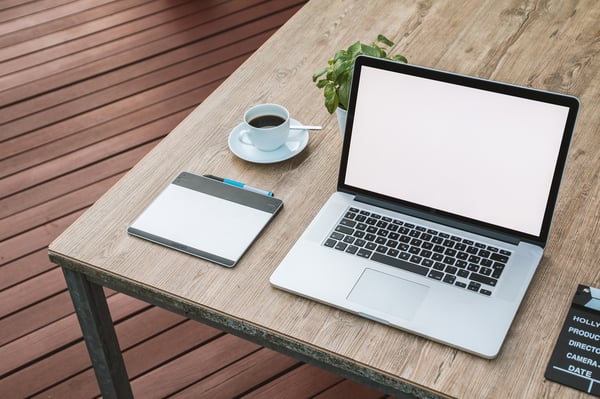 Web Design Trend #1: Big, Bold Fonts and Bright Colors
Simple, bold typography is easy to execute and attention-grabbing. Surrounded by whitespace, big and bold font styles are easier for readers to quickly skim, particularly if they're reading on a mobile device. While images can slow pages down, scaled-up typography won't impact the scroll speed at all.


You've got about 15 seconds to capture a reader's attention. If you put your most important information front and center in a bright, bold font, you're more likely to engage them long enough to to actually convert them into a customer. Using color throughout your site can draw the users' eye toward the points you consider most important and relevant.
Web Design Trend #2: Make Your Site Mobile-Friendly
In the last few years, more people are conducting web searches on their smartphones and tablets than on desktop computers. This trend isn't going away anytime soon— if anything, it's only becoming more prevalent. If your site isn't mobile friendly, it's well past time to make it so.
One of the fastest ways to send a prospective customer scrambling to leave your site is to make it clunky and difficult to navigate via smartphone. Another factor you need to consider is Google's algorithm. Their new Mobile-First Index prioritizes websites that are mobile-friendly. If you want to populate the first page of the SERP (search engine results page), you're going to need to take the necessary steps that ensure your site is in compliance.
Additionally, you might consider implementing accelerated mobile pages, or AMPs. These are protocols used to restructure your site, rendering it significantly faster to load on mobile devices. Your users will benefit from this instantly-loadable content, and you're less likely to lose their attention as they wait for your site to (finally) load. Better yet, Google's algorithm now gives pages with AMPs priority in the SERPs. In other words, if you've got an AMP, you're going to rank higher than other pages that haven't yet implemented this protocol.
Web Design Trend #3: More Interactive Content
People are more web-savvy now than ever before; you've got to up your game to engage them. Your users want to be informed, of course, but they also want to be entertained. Creating polls, quizzes, and online games offer them a fun and interesting way to get the information they need in a format they love.
Web Design Trend #4: More Video
Bottom line: your customers love video. Seventy-two percent of people say they prefer to learn about using a product or service via video; 85 percent want to see more video from the brands with which they have regular interactions.
Video is engaging, entertaining, and it converts like nothing else. In fact, including video on your landing pages increases conversion by as much as 80 percent. Honestly, you can't afford not to add video to your web design.
Web Design Trend #5: Increased Focus on the User Experience
Designing your website with your users' pain points in mind might seem like common sense, but it's rarer than you might think. Putting in the work to really get to know the people who will seek out your site is a big part of creating a user-friendly web design. (Creating buyer personas, for instance, are a good step in the right direction.)
Users will appreciate the extra effort toward making their experience on your website as easy and painless as possible. This appreciation could turn into conversion, if you create a truly memorable experience for them.
Ok, you're convinced. It's time for you to update your site to reflect the most current web design trends. But how do you do it? We can help. Click here or call (619) 786-7075 for a free 30-minute consultation with one of our solutions experts.