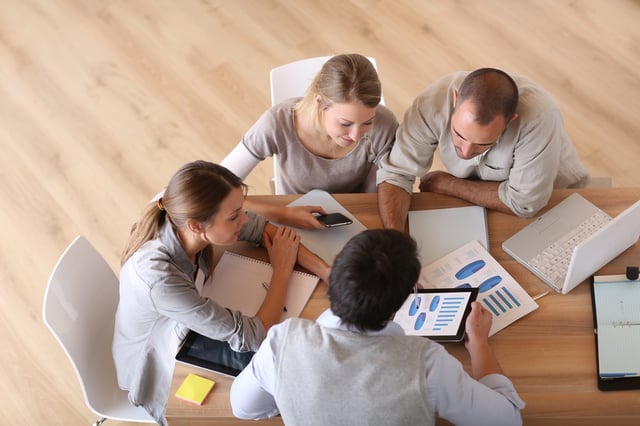 'Tis the season for red and green lights to light up houses and malls. But, there's one place where you dread seeing that red: your marketing budget. In the midst of spending time with family and friends, exchanging gifts, and eating tasty meals are year-end marketing budget reviews. And, sometimes, they may not be so pretty.
Whether your marketing campaigns hit the mark or fell short of expectations, the final say about your team's budget for the next fiscal year is out of your control. What you can control, though, is having a Plan B in the event of a marketing budget cut. In this post, we show you how to keep your cool and push forward with a smaller-than-expected marketing budget. By the end, you'll see that a cut to your marketing budget isn't the end of the world.
Let's get creative with our marketing dollars!
Optimize Organic Traffic
One way to reduce your marketing expenses is to focus on "free" traffic from organic sources, mainly search engines. This step breaks down into two main pieces: on-page and off-page SEO. When we think about improving on-page SEO, we mean fixing header tags, internal links, meta descriptions, responsiveness, readability, and a host of other on-page SEO factors. Using an SEO tool by Moz, Wordpress, or HubSpot can give you a clear look into making your content as technically sound for search engines as possible.
For off-page SEO, you'll need a deeper dive into your link building strategy. The first step is to plan and publish unique, shareable content that people will want to link to. With this step down, you can identify reputable websites within your industry to reach out to and begin talking about providing link exchanges. By growing the number of reputable websites with back links to your website, your search engine rankings will improve. This off-page SEO will drive higher traffic to your website without costing any additional money!
Reduce Paid Advertising
Of course, spending less of your budget on paid advertising would stretch your marketing dollars. But, this step goes much further than that. Paid advertising reveals the type of messaging that best resonates with your target audience. Use an inexpensive analytical tool such as Google Analytics or HubSpot Analytics to find out your best performing content. We recommend using a ratio metric such as Cost-Per-Click over a raw value metric such as total impressions to properly connect content performance with cost.
Once you've identified your top performing ads--according to your selected metrics--it's time to find your target keywords. These are keywords that are at the heart of your best ads, which have been proven to resonate with your audience. Make a list of these words and phrases. Your updated content strategy will focus on creating content that helps your website rank for your target keywords. This way, you can use paid advertising as a trial-run to find the target keywords for your content marketing. Find out more about the benefits of SEO vs. PPC.
Expand Your Social Following
It's much easier said than done to have thousands and thousands of people follow you on social media. Like with many marketing challenges, the battle is won in the planning and strategy phase. Focus on the social media channels that already show promise for your business, i.e. have the most followers and engagement for your content. If your business is just starting to get into social media, the research has shown that Twitter, LinkedIn, and Facebook drive the most traffic to businesses out of all the social platforms. For more advanced marketing teams, look into YouTube as an option to share engaging video content, such as tutorials or webinars.
To grow your social media following, first research the influencers in your industry with large followings on Twitter, LinkedIn, or Facebook. Influencer marketing is valuable to your business because you can amplify your content to thousands, if not millions of people, on a consistent basis. Look into whether or not their content aligns with your business messaging and identify any mutual topic interests. Once you have a final set of influencers and topics for collaboration, start to reach out to 2-3 influencers over email. Even if you can't offer monetary compensation, sending an early edition of your next product can persuade them to partner with your business.
The Best Way to Manage Your Marketing Budget
We've helped small businesses up to global enterprises get the most of their respective marketing budgets since 2010. Our digital marketing team works with you to send your marketing dollars to the right campaigns and channels to gain the highest returns for your business. Find out how we can guide your website redesign process to keep your costs as low as possible.
Have you found any other ways to move forward with a reduced marketing budget? Let us know in the comment section below.
You Might Also Like...
---
Webbege is a leading San Diego B2B website design and digital marketing agency that provides a suite of marketing automation tools. Our clients range from small businesses to Fortune 500 companies. Let's grow and transform your business.