At Webbege, we work with a lot of technology, service, and SaaS companies to implement HubSpot and strategize for marketing efforts. We also do a considerable amount of work for existing HubSpot users. We're big fans of HubSpot and its many functions— the CRM will keep your sales team organized and the marketing hub helps automate processes that will free you up to grow your business.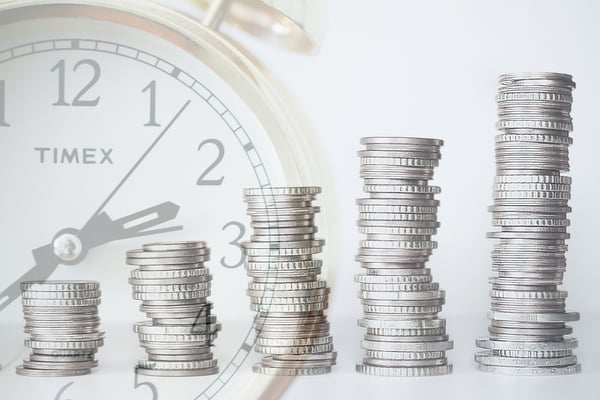 That said, their implementation team can only do so much. There are features that would enable you to grow even faster if you had access to them, but the HubSpot implementation team lacks the time or the know how to incorporate them for you.
When working with multiple systems, departments, processes, and timelines, things can get lost in the shuffle. One common issue we find is a disconnect in reporting when multiple layers or integrations are involved.


Truly Close the Gap Between Sales and Marketing


The purpose of a system like HubSpot is to track contacts from first touch to closed deal. Throughout the process, prospective customers will ideally be the recipients of frequent (but not intrusive) interactions with both the sales and marketing teams. If your sales and marketing teams aren't working in tandem, this system could go dramatically awry, leaving prospects either overwhelmed by excessive contact or waiting in vain to get the answers they need to make their decision.
Using tools like source reports helps you understand your best performing channels. Where are the majority of your qualified leads coming from? However, if tracking is not set up properly, the source report will show more leads coming from Direct or Offline sources. Disconnected data can lead to poor decision making during strategy sessions.
The image below shows an example of a source report where contact interactions were not properly tracked. This could be a result of incorrect creation of contacts through HubSpot API, not tracking form submissions, or possibly missing the HubSpot tracking code on the website.
Bounce Rate and Session Length are tracked, but 99.99% of the conversions come from Offline sources. Deciding whether to invest more money in PPC, SEO, or Social Ads becomes difficult as the data is not available to justify any decision.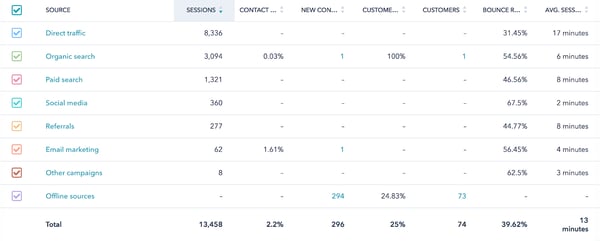 Data makes decision making much easier.


Imagine having 100% visibility into what marketing is doing and how sales is performing. A truly successful HubSpot implementation will ensure that all conversion points are properly tracked. Using the data in this report, we are able to make better decisions on how to tweak our marketing strategy and where to invest our budget.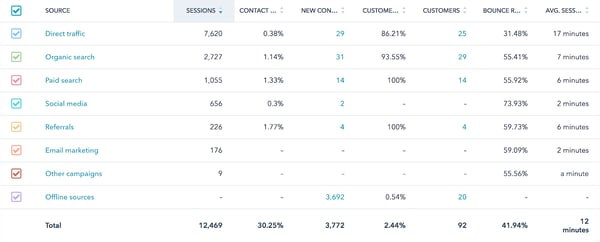 Determining your most successful conversion points will help you funnel your energy and dollars toward the most effective methods. When you've got the right HubSpot implementation, this data is at your fingertips— no muss, no fuss. Better yet, with the right integration, you can get the data you need in real time. You won't have to wait to see the results of your efforts.
Convinced? Ready to get started? We can help you implement the tools you need to determine your marketing ROI with the click of a button. Click here or call (619) 786-7075 for a free 30-minute consultation with one of our solutions experts.