---
Busy marketing professionals often have little time to stay informed of marketing industry news, as it happens. You need a way to quickly keep up with marketing updates and trends. We cover digital publications that are both informative and concise for busy marketers to digest during the workday. Outside of standard work hours, we discuss professional societies and continuing education options for marketing professionals. For more in-depth knowledge, learn how to find the right prospects with targeted marketing. By the end, you'll see the variety of ways to keep up your knowledge with marketing industry events.
---

9 Continuing Professional Education Sources for Marketing Professionals
Digital Publications for On-The-Fly Learning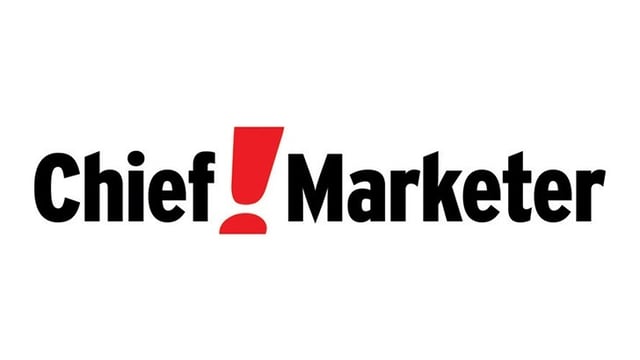 Chief Marketer is the one-stop, digital publication for the modern marketing professional. Looking at data to make smart marketing decisions guides the content of Chief Marketer. This goal is reflected in the publication's mantra "inspiring creative, data-driven marketers". B2C and B2B companies can benefit from Chief Marketer's detailed portfolio, which includes an e-newsletter series, webinars, video series, events, monthly special reports, quarterly strategic guides, and other resources.
Chief Marketer goes in depth for B2B and B2C marketers to acquire, engage, convert, and retain customers. Digital marketers can use data to their advantage to drive their ROI through better targeted campaigns. The publication also stays current with marketing technologies, agencies, and resources. Social media and marketing to millennials, two vital pieces of any marketer's puzzle, are covered in depth on the website.
Business Insider, or BI for short, is a rising star in the digital marketing publication industry. Their most relevant sections to marketers are "Advertising" and "Media". Both sections look at current trends in their respective industries.
BI Advertising looks into current trends in advertising with an eye toward digital and social media advertising. The publication highlights the successes and failures of industry leaders to help marketing professionals learn. Also, BI Advertising is a thought leader, projecting the future of digital advertising (hint: the future is immersive video!).
BI Media takes a similar approach to BI Advertising, but gives a better pulse on popular media companies and their products. From BI Media, marketing professionals can match their company's products or services with popular media companies to increase visibility.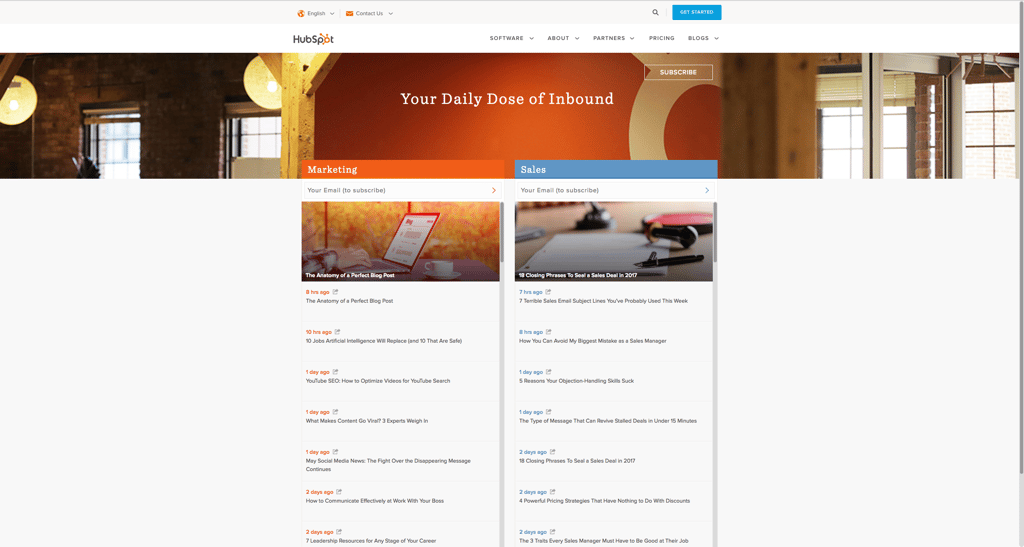 With more than 400,000 subscribers and 2 million monthly visitors, HubSpot's blog is the digital center for inbound marketing content. They offer in-depth content about a variety of inbound marketing and sales topics. Inbound Marketers likely have come across HubSpot's blog from a Google search about almost any inbound marketing question. The blog enables users to easily choose articles by date or topic, which provides a friendly user experience.
Looking for advice on lead generation? Trying to automate your digital marketing? Interested in the role of social media and video marketing? HubSpot provides their industry expertise to help marketing professionals of all levels generate more leads and close the loop between sales and marketing teams. We highly recommend looking into HubSpot to stay current with Inbound Marketing trends.
The self-description about Kissmetrics says it all: Kissmetrics is "a blog about analytics, marketing, and testing". Kissmetrics is a company focused on helping other companies grow. Their blog is a mix of content for marketing professionals with various levels of growth marketing knowledge, from beginner to expert. A typical blog post may have a title similar to "Getting Started with Behavioral Email Marketing". Diving into the post, a reader sees a clear topic with data to support the author's argument.
The emphasis on data is the separating factor between the Kissmetrics blog and other blogs. Infographics and examples are used to help readers visualize difficult concepts. Kissmetrics content is widely read and shared across major social media platforms. Marketing professionals can gain a sharper mindset and toolkit to track, analyze, and optimize their growth cycle by reading the Kissmetrics blog.
Professional Societies for Networking Opportunities

Founded in 1924, the Consumer Technology Association shapes the direction of the consumer electronics industry. CTA creates the infrastructure necessary for innovators and entrepreneurs to push the technological envelope. Using policy, research, and standards, CTA is able to reach its goals. By being a CTA member, marketing professionals can stay aware of technologies on the rise.
Industry experts and investors look to CTA for consumer technology trends, research, and intelligence. CTA holds their annual CES conference in multiple locations around the world, which includes hundreds of startups and over 180,000 industry professionals. Marketers can look to CTA for consumer technology trends, both present and future, and user behavior reports to match marketing needs.
Are you at a Marketer at a B2B company? Look to the Business Marketing Association (BMA), the largest community for B2B marketing professionals to learn and share industry knowledge. Members have opportunities to attend a variety of events, such as local and national conferences, chapter events, and webinars. The webinars are run every Wednesday as part of BMA's popular training program.
Marketers will find opportunities to build knowledge and network. Look to the BMA content library to find marketing industry insights through case studies, survey research, B2B blog posts, and a e-newsletter.

The American Marketing Association started in 1953, with the idea to create a community of thought leaders in the marketing industry. The focus and reputation of AMA's content are the separating factors for the organization. Whereas other marketing organizations focus on current and future marketing trends separately, AMA focuses on the interplay of future marketing advancements with current marketing standards.
Marketing professionals can benefit from conferences and training workshops at both the local and national levels. Also, the AMA offers industry marketing solutions from scholarly journals, such as the Journal of Marketing, and other award winning publications that is tailored for marketing professionals. AMA membership ensures networking opportunities and other exclusive content in the forms of e-newsletters, webcasts, podcasts, white papers, and research reports.
Continuing Professional Education for Certified Knowledge
It's never too late to go back to school! Consider enrolling in an extension course in-person or online. If you have the chance, it is recommended to attend an extension course in-person. This allows you to meet and greet your classmates, who will likely be other marketing professionals. Also, these programs often connect students with local marketing associations. Companies often sponsor continued education for their employees, so check into financial aid opportunities for your extension course.
If you want to dive deeper into your continuing education, keep in mind certificate options. Instead of taking a single extension course here and there, look into a University-sponsored Marketing certificate. A Marketing certificate carries more weight than finishing a single course because it is a cohesive set of marketing courses.
2. Marketing Certifications
Marketing professionals can look into continuing professional education through companies. Certifications through HubSpot, Google, and Salesforce help marketing professionals learn valuable, new skills. It helps that these certifications are for in-demand skills! Even experienced marketing professionals can refresh their skills to align with industry-standard knowledge.
HubSpot has an academy that offers several certifications. HubSpot Content Marketing and HubSpot Inbound Marketing are the most relevant certifications for marketing professionals. From Google, check out certifications in Google Analytics and Google AdWords. Salesforce empowers marketing professionals to become Salesforce Marketers and Salesforce Pardot Experts. Best of all, if your company is a partner with any of these companies, you can have discounted or even free access to these certifications.
3. Trade Shows
According to our research, marketing professionals often attend multiple trade shows per year, typically around six. Trade shows are another chance for marketers to continue their education. In addition to getting direct feedback from consumers, marketing professionals can also network with one another and share their industry expertise. This sharing of knowledge helps marketers learn and grow their network of contacts.
Also, marketing trade showd typically host breakout sessions that each cover a specific marketing topic. This format allows a marketing professional to learn about a variety of topics in a short period of time from industry thought leaders. There are also virtual conferences that save marketers the hassle of travel and hotel accommodations.
We covered many different options for busy marketers to stay informed with the marketing industry. Let's briefly cover what we learned.
---

What We Learned
Marketing professionals often wear many hats and have little time to spare to pursue new knowledge. Through digital publications, professional societies, certifications, and trade shows, marketing professionals can effectively stay current with the marketing industry.
To dive deeper into marketing, we guide our clients in content marketing and content strategy.
As a marketing professional, how do you stay informed about marketing industry trends and news? Share your knowledge in the comment section below and help our community learn.
---
Webbege is a leading San Diego B2B website design and digital marketing agency that provides a suite of marketing automation tools. Our clients range from small businesses to Fortune 500 companies. Let's team up and grow your business.